Browsers have grown to become more than just internet search engines. These extensions allow you to customize how webpages load and navigate, as well as offer more functionality to your browser.
History of Extensions:
Browser extensions date back to 1999 with the release of Microsoft Internet Explorer 4th Edition. However, it was only after a long time that it did not become as effective as it is today.
"Explorer Bars" were the first extensions in Internet Explorer. It was simply a set of specialized toolbars that could be added to the user interface. You could, for example, have an Explorer Bar with an arrow pointer.
In 2004, Mozilla's Firefox browser became the first to accept extensions, followed by Opera in 2009, then Google Chrome and Safari in 2010.
What is the role of extensions?
Browser extensions depend on the browser itself. In the beginning, the role of extensions was to access many of the inner workings of browsers, but with the tightening of security and protection, extensions have evolved even more.
The extensions can be used for a host of things, you can change the way you tab process, integrate your favorite note-taking service and get your Gmail notifications, check the grammar of your writing and games too.
There are two common types of extensions. Most of them either extend the functionality of the browser itself or integrate an existing service with the browser. For the first type, you'll find things like Picture-in-Picture for all video players, volume controls for each tab, dark mode for non-tab websites, split-screen tabs, and many more aesthetic customizations. The second type includes things like the Gmail notification checker, the "save to Google Drive" button, the Evernote web scissors, the Todoist menu in the toolbar, coupons for online stores, and much more.
The best way to see what extensions can really do is to explore the extension store for your favorite browser.
How to install extensions on your browser?
Installing the extension is not difficult, it is just a matter of visiting the web store of your favorite browser. Our examples cover Google Chrome, Mozilla Firefox and Safari.
Google Chrome :
The process begins by heading to the Chrome Web Store. You can search by name or browse by category. Once you've found the extension you're looking for, all you have to do is click the Add to Chrome button.
Mozilla Firefox :
Firefox uses the term "add-ons" a lot when referring to extensions. You can search, browse, and install Firefox extensions from the Mozilla add-on page.
Apple Safari:
Safari extensions can be downloaded from the Mac App Store. You can search by name or browse the different categories on the Safari Extensions pages. Just click the "Install" button when you find something you like.
How to install Jaybe extension on Chrome browser?
The Jaybe browser extension makes it easy for you to find various coupons and coupons on your favorite online stores. The Jaybe extension saves you money and time on more than 750 online stores. Not only that, through this extension you can take advantage of many features such as: collect referrals and reward points, find coupons automatically, apply the best coupon among them and get the best prices on the web.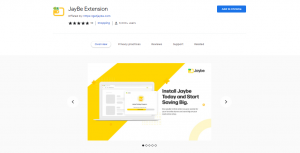 It's time to start saving big with Jaybe! So don't hesitate and click the "Add to Chrome" button above, find any store you love – or one of the retailers featured below – and save money and time for an amazing shopping experience.